If you are looking to mass delete check marks "Show in Webshop" on product card, then this is how you should processed.
PIM - Export products - Export your product catalog, the you have a list of all your products in excel and can see which products are visible in Webshop and which not (Show in Webshop column)
In the excel replace the Show in Webshop column "yes" values with "no".
Leave only Product code or ID and Show in Webshop column in the file and save.
Now upload the file in the product Importer PIM - Import Products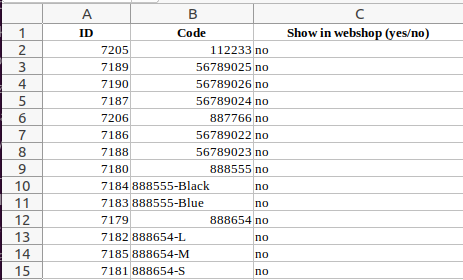 Updating Process:
PIM - Import Products
Update Products
Upload the file, either XLSX or CSV format
File has headers
Create
Configuration:
Match existing products by Product Code or ID or both
Select Operation Update
Mapping:
Choose the column names
Apply and validate configuration
Make sure the row is marked yellow and Update in the Action column
Confirm and start import

After Import in finished open the product card and see that the "Show in Webshop" option is unmarked.