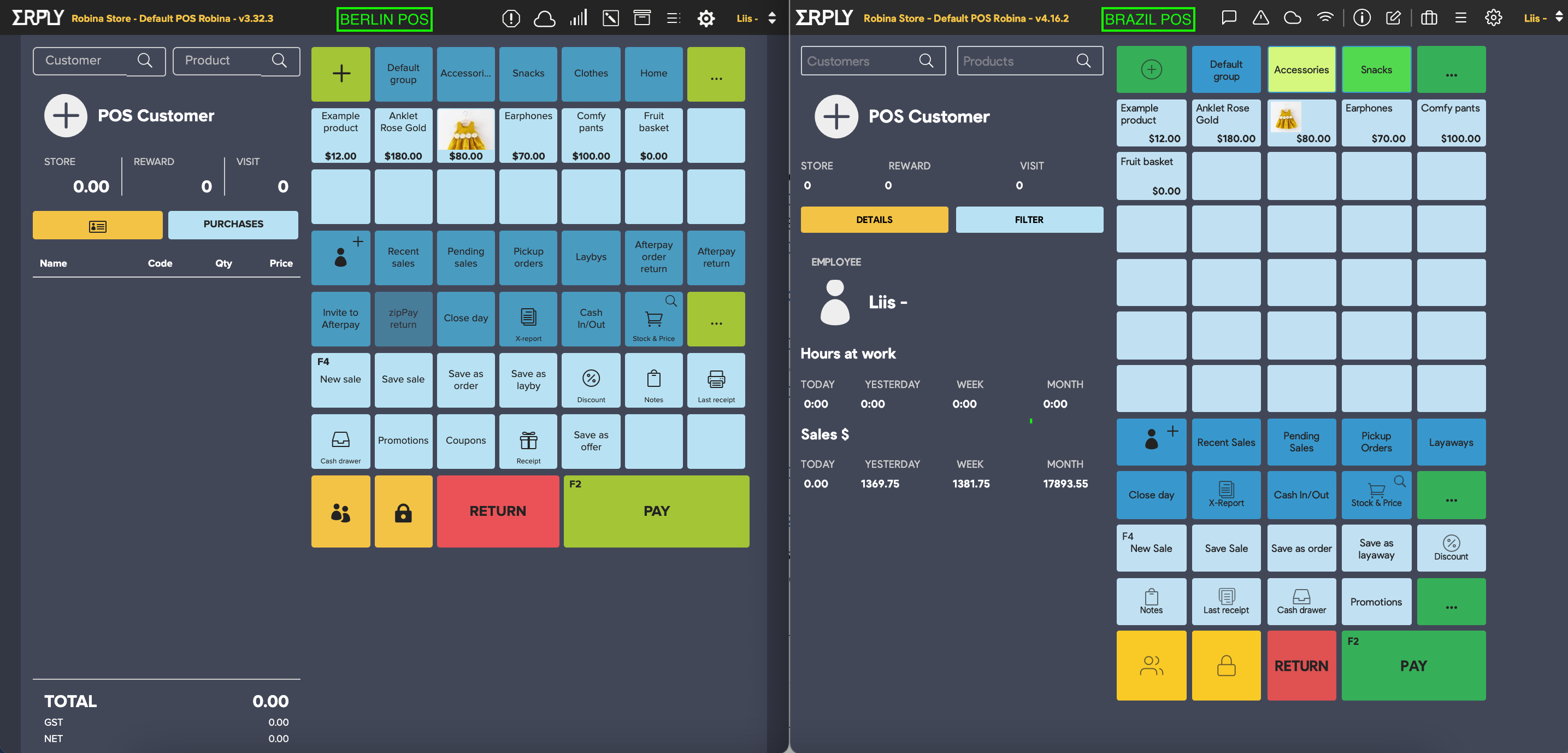 Erply has two main POS versions that are currently used by lots of our clients all over the world. Both solutions are cloud based and can be run in any hardware devices with internet connection and a web browser. Visually they look very similar, but there are multiple technical differences, as well as different features and add-ons.

In this article, we are focusing on the main differencies between these two POS versions.

POS Environment
Berlin POS can be accessed via https://app.erply.com/live
*In order to use integrated hardware devices (eg integrated printing, scales, card payments), EPSI must be downloaded. Read more about EPSI installation here. And see compatible hardware devices here.

Brazil POS has two environments that are available for the end users: production and sandbox. That gives the POS users an opportunity to test upcoming software updates and new features.
Brazil POS production environment is available via https://epos.erply.com
Brazil POS sandbox environment is available via https://pos-sb.erply.com
*In order to use integrated hardware devices, oepn Erply Onboarding Wizard and download the installer app and relevant microservices. Read more about installer app here and take a look at the compatible hardware list for Brazil POS.

Main Differences
Berlin POS requires Java based EPSI in order to communicate to hardware devices. Brazil POS doesn't need Java and uses microservices instead of EPSI.
Berlin POS has a separate plugins manager environment managed by Erply Support Team. Brazil POS has a built-in plugins page.
Berlin POS has a wide variety of Javascript plugins providing different features. Brazil POS has improved core solutions that are easily managed in the configuration settings panel.
Brazl POS uses new refined APIs. Learn more about Erply API here.
Brazil POS has improved offline capabilities by allowing locally store full product database when internet connection drops.
Brazil POS has ultra fast product sync allowing customisation for the end user – sorting products by names, codes, ID-s, allowing fuzzy search, etc.
Brazil POS has automated notification system making possible to collect data where it happens.
Brazil POS introduces new and more flexible return features.
Brazil POS has a new customisable customer display solution improving the instore experience and allowing advertising materials to be shown.
Brazil POS is easy to translate into your local language. Download the language pack and get it translated.