This guide covers the following setup steps for A Global Payments (Cayan) device on iPad for Brazil POS:
iPad setup
Erply back office setup
POS setup
On your iPad
Install the POS for Cayan & Star app.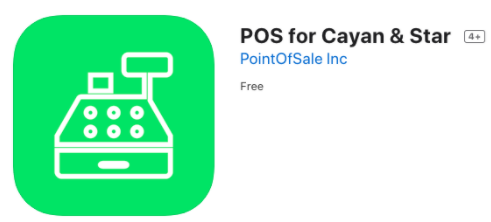 In the Erply back office
In the back office, navigate to Retail Chain -> Registers and click on the register that you want to set up your Global Payments (Cayan) device with.
Click on the Card payment terminal / card swiper dropdown bar and select Merchant warehouse.
If Merchant Warehouse does not show up as an option, contact customer support and ask them to add the Cayan module to your account. This may take between 24-48 hours.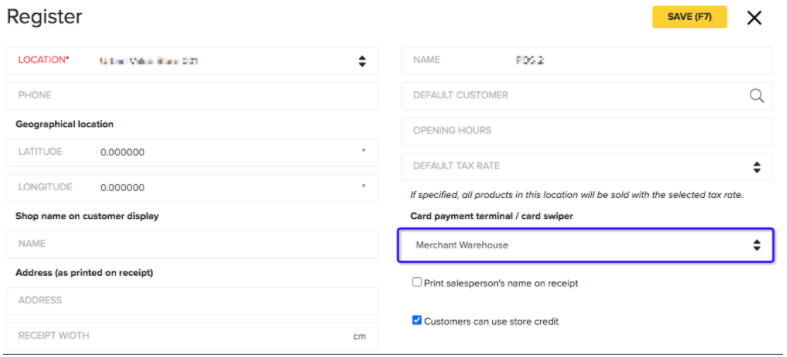 At the POS
On your iPad, open the POS for Cayan & Star app and log into the register where the payment setup needs to be done.
Navigate to Settings (gear icon) -> Payment configuration -> General -> Setup payment gateways.
Select Native wrapper (iOS/Android) in the dropdown menu for the payment integration type.
Enter the device IP, as retrieved from the payment terminal (see reminder below)
Set the port to "8080"
Note: when using this port, the Cayan certificate will not be required. To use secure connection, use port "8443" and make sure that the Cayan certificate is installed on the iPad.
For the merchant name, site ID and key, these fields are case, dash and space sensitive. This information can be retrieved from Global Payments if needed.
Optional:

If you entered "8443" for the port, check the box for "secure connection"
If using the Genius mini, check the box for "use cayan-mini app integration".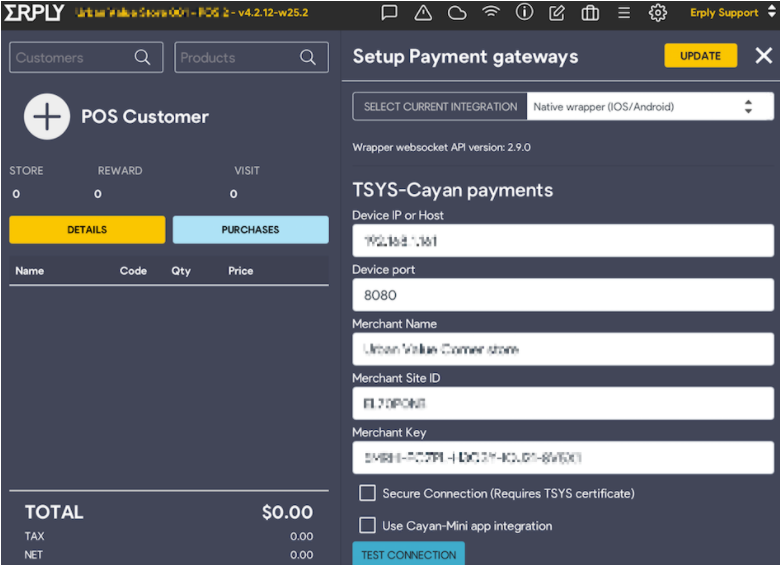 How to retrieve the payment terminal IP address
Verifone MX915 / MX925
On the credit card machine, ask the user to
Type "000"
Enter the password "9416557"; this should open the admin screen
Take note of the IP address
Exit the screen to go back to the payment device idle screen
Genius mini
Based on Global Payment's guide:
Open the Genius by Cayan app
In the top right-hand corner, tap the ⓘ
Take note of the IP address listed under Server
Go back to the Home screen