Benefits of Unique POS Logins
Easily track employee actions at the POS
Employee logins give you a paper trail to follow for vital POS and back office functions. Keep track of employee sales and hours worked, see how many times an employee opened a cash drawer, and always know who authorized a product return.
Maintain secure processes
All employees can be assigned a secure password or PIN to ensure an outside party does not access their account.
Assign user rights to each employee account to permit or restrict access to certain features, such as:
Item discounts and returns
Access to the back office
The ability to view customer information, but not edit it
Ring up customers from any device
Sign into multiple devices, including tablets and mobile devices, to line bust long lines or serve customers from anywhere.
Signing Into the POS
Open the POS screen
You can sign into Erply POS at https://epos.erply.com/ (Brazil POS) or, if you prefer the old version, https://app.erply.com/live/ (Berlin POS).
Signing into Erply requires a customer code, a username, and a password or login pin.
Enter your account credentials, then click the green Sign In button. If you forgot any of these credentials, please reach out to our support team to retrieve them.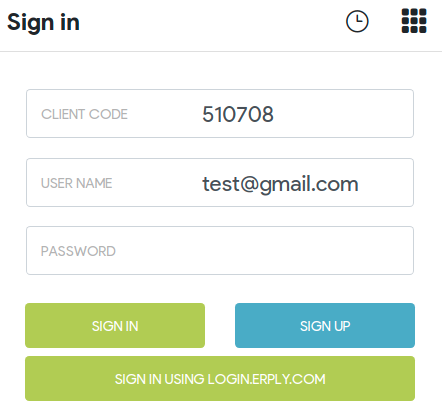 Select a register
Once you've signed in, Erply will prompt you to select a register.
Access to registers can be granted in the back office by a user with proper user rights.
Note: You can manage user rights in the back office Settings -> User Groups page.
Optional: Open the day
If you're logging into a register for the first time that day, Erply will prompt you to open the day.
Enter the amount of cash in the register, then press Open the day.
Signing in With PIN
Administrator can add a PIN code to each user through the Back Office.
Using a PIN code allows the user to log in faster. The first login must be with a password, but in the future the customer code will be memorized and all you have to do is enter the PIN or the corresponding swipe card.
To set a PIN, go to Back Office and select Settings -> Users.
Then click on the user to whom you want to add a PIN. Enter a six-digit PIN in the User swipe card code or PIN field. Save the change.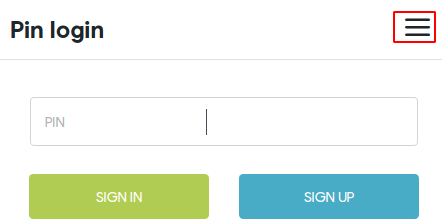 Signing Out of the POS
Click the active user in the top menu bar and select Log out to sign out of the POS.