This guide will cover basic information for creating and printing barcode labels.
With Actual Reports you can:
Accommodate for different label sizes by adjusting width, height.
Create "safe spaces" for paper with unusable space using margins.
Populate barcodes with any data, including product codes, UPC codes, and more.
Each account has label templates added by default. All of these templates can be edited through a custom printout (Actual Reports).
Labels can be printed through the following modules:
It is possible to print labels on incoming goods directly from the purchase document; to do this, open the purchase document and select "Print labels" under the "More" button
The product card has a "Print Labels" button
In both the "Product Catalog" and the "Inventory" module, you can select the products you want to print labels with; then click "Print Labels."
All of these options open a similar window where you can select the desired template and set the quantity: either the quantity in stock or set the desired quantity yourself (when printing labels from a purchase document, the quantity on the purchase document is selected instead of the stock quantity).
Check out our Actual Reports basics manual to learn the basics of Actual Reports, how to populate data into your document, and edit design elements.
How to create a barcode template
To start, open a barcode template in Actual Reports. Press File on the top left and select Make a Copy.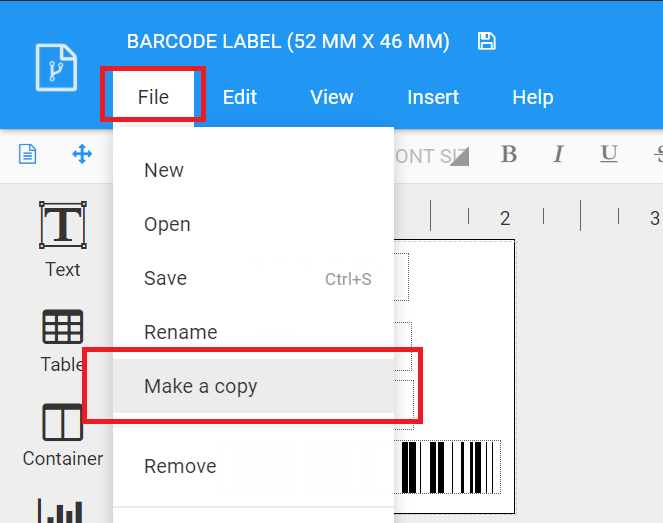 Click on the Barcode icon from the left menu bar to add a new barcode to the document.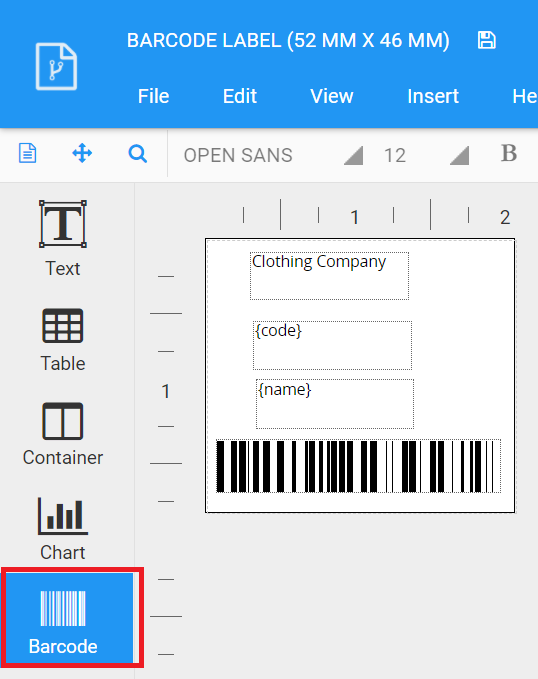 Barcodes can be moved by clicking and dragging them across the document. Make sure all barcodes are sized large enough to print legibly.
Barcode properties explained
Click on the barcode to pull up the edit window.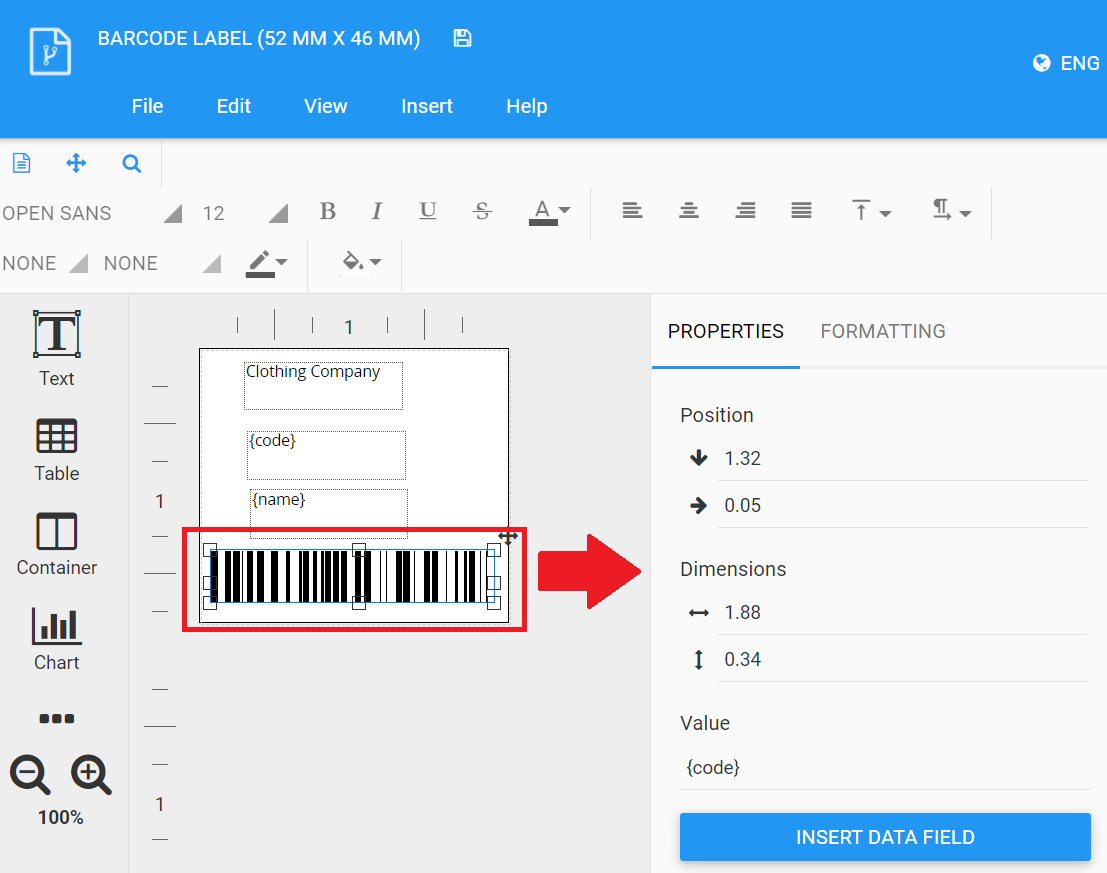 Actual Reports can configure the barcode type to be EAN, UPC, PHARMA, and more. See a full list of available barcode types in our FAQ section below
Position
Move the barcode to a precise location on the document.
Dimensions
Precisely change the size of the barcode.
Value/Insert data
Learn more about inserting product data from our Actual Reports overview.
Type
Configure the type of barcode you're setting up. Most scanners work with a C39
If your scanner is having trouble picking up barcode types, check which layout is required and see if the barcode type needs to be adjusted.
Show text
Checking this box off shows the code which the barcode represents. This allows an employee to manually enter a product code in the event a scanner stops working.
Quiet Zone
Adds a blank margin to the sides of the barcode. For stores that keep labels close together side-by-side, this prevents the scanner from accidentally scanning outside data.
| | | |
| --- | --- | --- |
| Barcode without quiet zone | | Barcode with quiet zone |
| | | |
Print from a roll of labels
If you're printing barcodes from a roll of labels, Actual Reports can be set to repetitively print barcodes.
In your barcode template, press File and select Page setup.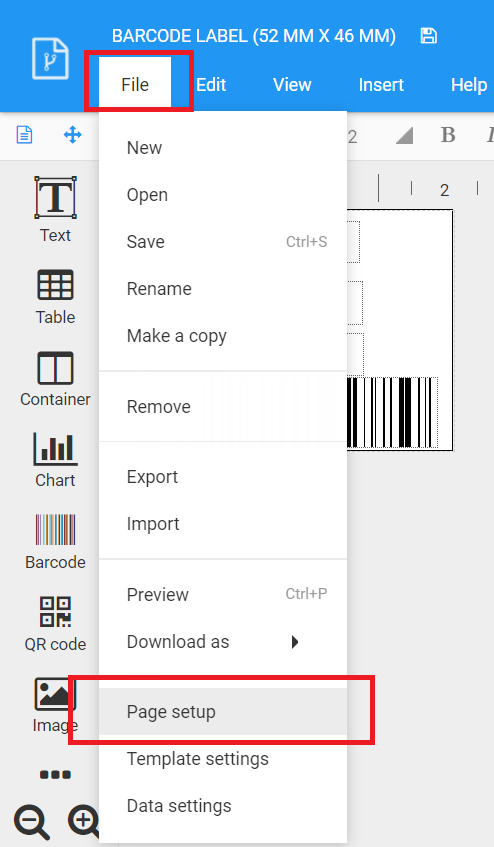 Check off the Repeat the layout on page box.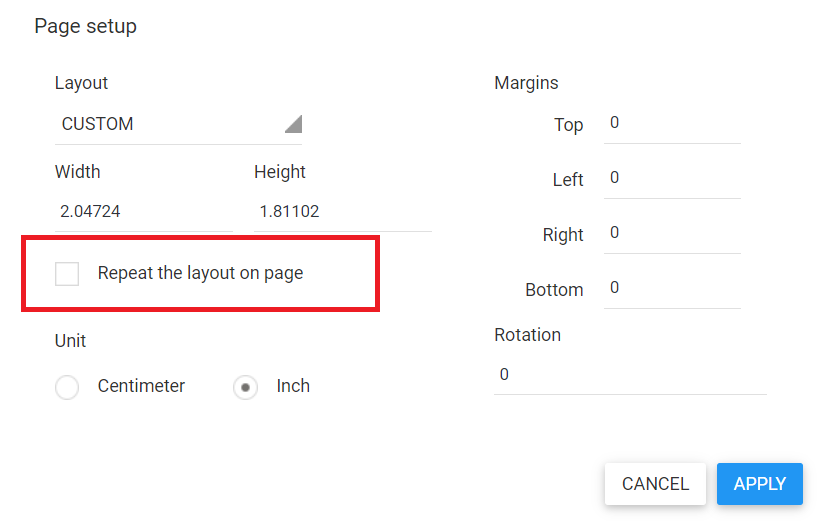 If you want to use an A4 printer to print labels, you must also select the "Repeat the layout on page" setting in the same view and select the paper size. For A4, select Page = A4.
This setting allows you to design a ready-made label in the first box, and the system will repeat the created label in the following boxes. Press Apply to save your changes.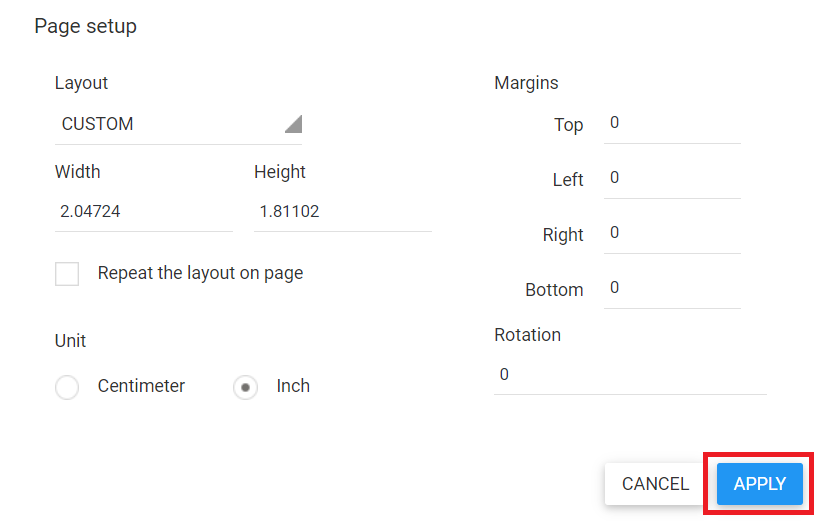 Picking data to populate a barcode with
Barcodes typically contain product data to be scanned at the register during checkout. However, Actual Reports can populate barcodes with any data to streamline business workflows.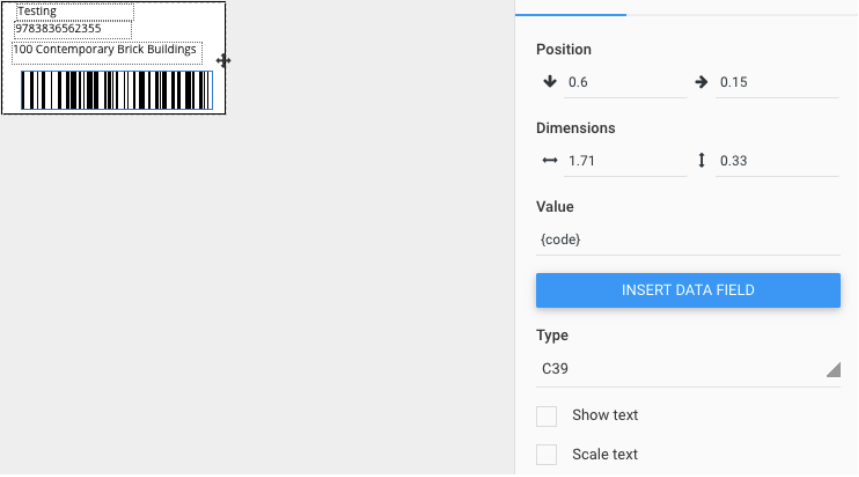 Frequently asked questions
Why doesn't my scanner register my barcodes?
Check what barcode type your scanner requires. C39 is a common barcode layout, but you may need to adjust the type in Actual Reports. See the "Barcode properties explained" section above to learn how to change a barcode's type.
What type of barcodes are available?
Erply supports the following barcode types:
C39
C39E
C39E+
C93
C93E+
EAT8
EAN13
EAN2
EAN5
UPCA
UPCE
PHARMA
PHARMA2T
CODE11
POSTNET
IMB
C128
C128A
C128B
C128C
KIX
I25
I25+
S25
S25+
MSI
MSI+
CODABAR
PLANET
RMS4CC
PDF417
DATAMATRIX
AZTEC