Erply allows you to create a customer both as a private customer and as a company. In the Back Office, the customer can create all the benefits of CRM. You can gather valuable information when creating your sales and marketing strategy. Erply customer data includes location information, sales history, reward points and more.
Although customers can be created directly in the POS system, creating a customer in the Back Office allows you to add more details or link that customer to a company (great for wholesalers).
New customers can be added Customers → Add customer(person)/Add customer(company).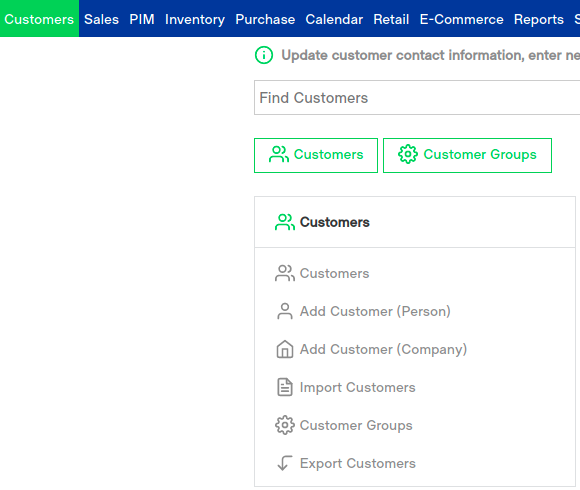 A new customer card opens up. When adding private customers, the form "Person" opens up.

It is now possible to add the customer's first name, last name, e-mail, mobile, address, etc. The required fields are "FIRST NAME", "LAST NAME" and "GROUP". It is also possible to create a new Customer Group → Add new on the Customer card.

When adding a company, the form "Company" opens up. You can add addresses and contact information to the company. The required fields are "NAME" and "GROUP"

Additional information can be added in the menu bar on the left. In case of a private customer, for example, title, national ID, date of birth, etc. In case of a company, for example, registry code, VAT, type of company, etc. When all the necessary information has been added to the customer card, press "Save" and a new customer has been created.