Order assignment plugin: Adding sales orders to assignments from the POS
Introduction
The Erply assignment module is an extra feature that is enabled on demand by users who perform work assignments using different sales documents types. All work assignments start as a work/sales order which can then be converted to an invoice when the work is complete. Multiple sales orders can be part of the same assignment.
Enabling the Assignment Module
Please contact Erply support to enable the additional assignment module in the back office. This module is required for assignments to save from the POS.
Please allow 1 to 2 business days for the assignment module to be connected to your account.
Enabling the "Order Assignment" Plugin at the POS
Step 1: Click the gear icon and then choose Plugins
Step 2: Check the box "Order assignment"
Using the "Order Assignment" Plugin
Once the plugin is enabled, there is no further configuration needed. When a sale is saved, there will be a prompt indicating whether you wish to create an assignment for the sales/work order. The prompt says: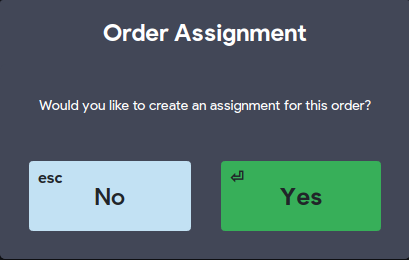 If "No" is selected, then the sales order would save without creating a new assignment.
If "Yes" is selected, then the sales order would create a new assignment and save as well. The sales order could then be pulled from the assignment as well as from from the list of sales orders.
Related Reading