Benefits of Product Returns
Increase customer loyalty and long-term profits
92% of customers will buy something again if the return process is easy. Customers are more likely to spend money at the stores where they have the ability to return an item if a product proves defective or not suitable.
Improve retail operations
Cataloging return reasons, such as "poor quality," can be used to identify pain points within your retail operations. All returned items can be temporarily stored in Erply's offline warehouse until you determine if they're resellable or not.
Minimize retail fraud
Tracking product returns and reason for return can help identify return fraud. See a spike in television returns after a big sporting event? That can be a sign to update your refund policy.
If you'd like to know how to return products in the back office, read this article.
Returning an Item with a Receipt
You can choose to fulfill refunds by crediting the customer via their original payment method (cash or credit), or by awarding store credit.
Setting Up and Modifying Your Return Policy
Back Office -> Settings -> Configuration
Back Office -> Settings -> User Group
Product Return rules are set up in the Back Office. You can define rules to determine when an order is eligible for returns and enable/restrict certain employees (or employee groups) to return a product.
Setting Up Return Reason Codes
Back Office -> Settings -> All Settings -> Other Settings -> Reason Codes
Navigating to the Back Office Settings will allow you to set up return reason codes. Erply lets you set up an unlimited amount of return reason codes, which can be edited at any time. Reason codes can be assigned a custom purpose to ensure that your employees know exactly when an order qualifies for a return and when it doesn't.
Common reason codes: Defective product, incorrect color, expired item.
Reason code uses: inventory write-offs, POS discounts, POS returns.
Returning in the POS
After selecting an order at the POS, press the red Return button.
Scan in the receipt barcode or manually enter the receipt number and then search.
Check off the products that the customer is returning.
Press Save when you're done.
All returned item will have a negative quantity, meaning this item is going back into stock and the net total will be a negative amount.
Click Pay to initiate the return.
You can return payment to whatever tender type is allowed in your Erply account - this is configured in your back office payment settings.
Confirm the return by pressing the green checkmark button.
If returning to cash, you will receive a confirmation notice with the credit invoice # and an option to print the receipt or send it to the customer via email. Click OK when done.
Returning Without a Receipt
It is always recommended to do a return by receipt. If necessary, you can return by item as an alternative.
Start by adding the items up for return to the cart.
Edit the line item to change the quantity from 1 to -1. This -1 means the item is going back into stock, and the net total should be negative.
Click Pay to move to the payment screen.
Select the payment method and the amount you are returning to the customer (generally cash).
Confirm the return by pressing the green checkmark button.
You will receive a confirmation window with the credit invoice number and an option to print the receipt or send it to the customer via email. Click OK when done.
Enabling Employees to Return Items Without Receipts
Only users with proper user rights can return an item without receipt
In the back office navigate to the Settings module and select Users.
Make sure the Accept returns without receipt box is checked off.
Press Save.
Changing payment processors
Please note that most payment processors do not allow returns without a receipt to credit the card used during the transaction. The sale can be returned to a different tender type, or the original receipt number can be used to process the return.
Erply requirements:
External Payments at the POS must be enabled.
Original receipt number -- you will need to search this in your old merchant portal.
When processing a return without a receipt, you mat get the following error message:
Press the exit button to process the return externally.
From there, you can complete the return in the old merchant portal by searching the receipt number.
Exchanging Instead of Returning
The user can combine products with both positive and negative quantities in a transaction.
When the setting is DISABLED: the POS does not allow to sell and return products in one receipt. In this case there should be two separate documents created.
When the setting is ENABLED: the POS allows to create a document where one part of products is returning (negative quantity) and another part of products is selling (positive quantity).
Toggle this setting in POS Settings -> Configuration -> Sale -> Allow Positive Quantities (Exchange Products) On Returns.
Note: This should be discussed with your bookkeeper beforehand, to make sure they are OK with it.
Return Store Credit
If you'd like to give store credit when accepting returns, instead of paying the customer the amount back, follow these steps.
In the POS, when you've initiated the return, click Pay.
It will automatically fill the payment type with the original type of the document. You will need to change this.
Click on the payment amount (the highlighted box in the image below) and change it to zero.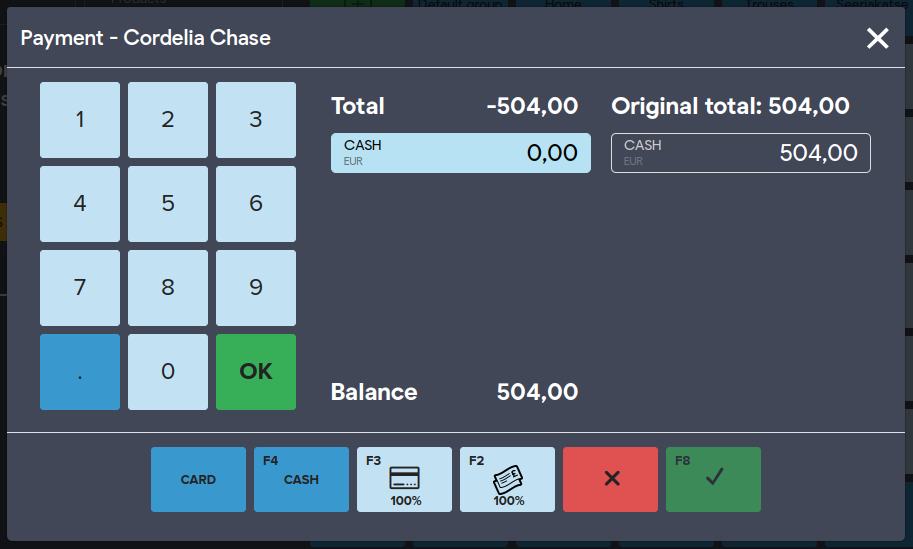 After changing it to zero, click on OK. Then, from the next view, click on Store Credit and Confirm.
Now the amount of the original payment will be added to the customer's balance.
Editing the Price of the Returned Product
In the Brazil POS, during returning with a receipt, the user can not perform any price changes: edit a price or apply any discount. If you try to edit the price or apply a discount in the product edit window, the POS will not accept these changes and give a warning message.
This setting allows users to have a possibility to change prices and apply discounts to the returning or exchanging of products. After saving the price changes, the shopping cart will be updated and the user will be able to proceed with the return/exchange.
Enable this setting in POS Settings -> Configuration -> Sale -> Allow Price Editing for Exchanges and Referenced Returns.
Processing Card Returns
All payment processors have different ways to complete a card transaction refund, you'll need to follow two basic steps to return card payments at the POS.
Process the return in Erply

Follow the return instructions provided by your CC processor
When processing external sales, be sure to enable the setting that allows cashiers to capture card type and authorization codes at the POS. This will provide you with vital information to complete the return through your payment processor.
If you're unsure of the steps to refund a card transaction, be sure to contact your payment processor.
When making a return, the payment window will pop up and you can choose to make a partial or full return. From here, you'll need to follow the return steps provided by your payment processor.
Enabling card type and authorization codes at the POS
Navigate to POS settings and select Configuration.
Scroll down to the Payments section and check the box labeled Require card type on external device.
Card payments at the POS will now prompt you to select a card type and enter the authorization code.
A card's authorization code is located on the receipt that prints out for the customer.
Note: The transaction will still go through if the authorization code field is left blank.
Viewing All Receipts in the Back Office
You can view receipts and returns in the Erply back office by navigating to the Sales module and selecting Invoices.
All payment invoices will display on the screen.
In the Document Type menu on the left side of the screen, you can press Receipts to have Erply only show receipts.
Terms to Know
Store Credit: An alternative to cash refunds. Allow customers to accumulate a non-currency balance, which can be applied to later store purchases
Gift Card: A gift card is a pre-paid, non-currency balance that can be spent within your store as an alternative to cash or credit.
Frequently Asked Questions
Is there a limit to how many return/reason codes I can create?
No.
Can I return the same receipt multiple times?
No.
What is the difference between a void and a refund?
Voids are used on card purchases where the transaction is incomplete and has not been processed by a bank. Once a payment has been processed by a bank, a transaction fee will occur and the purchase can no longer be voided.
Refunds are used on orders where a transaction has been processed by the bank. Customers have the ability to dispute transactions that have been processed.
Check with your payment gateway to learn how long your processing times are.
What are the minimum rights I need to give to an employee so they can make returns?
We have an article just for that! Check it out here.